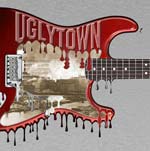 Uglytown
(2006 - demo)
This is what Leigh Ann and I were trying to get started most recently. No rules on what the music was supposed to sound like, just anything that struck our fancy. As such, it's "folk music" in the Louis Armstrong sense — he said, "All music is folk music. I ain't ever heard no horse sing a song."
All these songs feature Leigh Ann singing and playing fiddle, Elton singing (uh huh) and playing guitar and/or keys, and Mr Schtinke playing bass. We used various drummers, or sometimes samples instead of live drums.
You can download the recordings! Right-click on the track name, select "Save Target As..." (IE) or "Save Link As..." (Firefox).
1
Chelsea Morning

Words & music by Joni Mitchell.

Drums: Richard Vitale
2
Waters of Babylon 128 kb, 2.0 Mb

I learned this round off a Don McLean album. The weird noises in the background are an acoustic guitar, heavily processed.

Percussion: Richard Vitale
3
Babylon Is Fallen 128 kb, 3.3 Mb
lyrics

I learned this song from Oak, Ash, & Thorn. They didn't do it like this.

Drums: Richard Vitale
4
Uglytown 128 kb, 2.8 Mb
lyrics

I wrote perhaps 2 love songs in my entire life. This is the other one. I don't think Leigh Ann knew I wrote it for her.

Drums: Richard Vitale
5
Rainbows in the Gloom 128 kb, 2.3 Mb
lyrics

I wrote this in 2000, after the Fed tried to use the RICO laws to confiscate a dance venue in Florida on the grounds that the owners had permitted illegal drugs to be used on premises.

6
I Am 128 kb, 4.4 Mb
lyrics
There are two surviving relics of Leigh Ann's and my "Rock 'n' Roll Ritual": her Vessel of Mercy and this, which I wrote about Ain, The Limitless from Qabalah.
7
My Winter Song 128 kb, 3.6 Mb
lyrics

This song was the result of spending one winter living on top of a mountain in the middle of nowhere, with a soon-to-be ex-wife. The good thing about being a songwriter is, you can immortalize your depressive fits and spend years getting applause for your whining.

8
The Sound of Dying 128 kb, 4.1 Mb
lyrics

This is a major revision to a song we used to do many years ago, when Annwn was still called "Daoine Sidhe". I wrote it; I remain unclear on exactly what it's supposed to be about.

9
(Let It) Rain 128 kb, 3.6 Mb
lyrics
Drums: Richard Vitale
10
The Dangling Conversation

This is our version of a minor Simon & Garfunkel hit from the '60s, followed by the Scottish Reel MacArthur Road

Drums: Richard Vitale
11
This Is the Girl 128 kb, 3.4 Mb
lyrics

The title of this song is from Terry Pratchett's book A Hat Full of Sky. It was supposed to be filk. My head had other ideas.

12
White Light Shines 128 kb, 3.6 Mb
lyrics
Drums: Don Roland
13
Summertime

This is my revision of the very well known song by George Gershwin (lyrics by DuBose Heyward).

Drums: Richard Vitale
14
Follow 128 kb, 3.7 Mb
lyrics

This was originally supposed to be a song for the second nuit album. There wasn't one. But I still like the song, so here it is.

15
A Street Downtown 96 kb, 2.2 Mb
This little ditty is named for a freeway exit off I-880. Played in open 'D' tuning, it's an homáge to 'slack key' guitar style.
16
Only Passing Through 96 kb, 2.5 Mb
lyrics
This song commemorates part of my collection of dead friends and relatives. Ars longa, vita brevis. Way too brevis, sometimes.