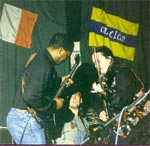 Live at the Starry Plough, 1998
(recorded live, 2/14 and 5/1/1998)
These tracks are from two 1998 Annwn concerts: 14 Feb and 1 May — the first was our "un-Valentine's Day" concert, and the other was May Day. Brian routinely put a stereo microphone and a DAT recorder at the back of the room to record our shows. On these two days, everything came together: the sound man made a fabulous mix, and the band played well.
These tracks are from those recordings. Because the mics were at the back of the room, you can hear exactly what the audience heard — including the other members of the audience talking.
These concerts are special. Each of them includes at least one song that we played on stage exactly once, so you can't hear it anywhere else. Yes, it's blind luck that we have these recordings; but what luck!
This band is: Leigh Ann and Elton; R Pickett, bass; Larry the O, drums and percussion; Brian Hill, guitar; and Billie Mandel, flute and vox.
You can download the recordings! Right-click on the track name, select "Save Target As..." (IE) or "Save Link As..." (Firefox).
1
Tam Lin / Down Among the Dead Men 128 kb, 6.7 Mb
lyrics

A modern reel, followed by an English song in praise of drinking.

2
The Trees They Do Grow High 128 kb, 3.9 Mb
lyrics

A Scottish border ballad about an arranged marriage. We have heard also that the rrrrrest of the story is, this was a plot between father and daughter to marry the daughter off to another lord's son, so that when the son was killed the daughter would inherit the land. We've changed some of the words in this song, since the ones most bands use didn't make sense to us.

3
Hal An To 128 kb, 2.5 Mb
lyrics
An English "furry day" (that is, feria, Latin for "holiday") carol. This comes from Helston, in Cornwall. Leigh Ann included it in her book of Pagan Carols, and I really liked it so we learned it. For this version, I swiped a verse out of Rudyard Kipling's poem The Trees, and gave it the melody to The Teddy Bears' Picnic.
4
The Twa Corbies 128 kb, 3.8 Mb
lyrics

A border ballad about two crows discussing lunch. (Yum!)

5
She Moved Through the Fair 128 kb, 3.8 Mb
lyrics

An Irish ghost story, this began its life as a ballad about love lost through courting too slow.

6
Salute 128 kb, 2.8 Mb
lyrics

I honestly don't remember what caused me to write this little ditty in praise of leather culture. It couldn't possibly have been inspired by a photograph of Leigh Ann in dominatrix drag, oh no.

7
The Blackbird of Avondale 128 kb, 4.2 Mb
lyrics

An Irish ballad lamenting the death of Charles Stuart Parnell, an Anglo-Irish supporter of Irish home rule.

8
Black Eye, Yellow Eye 128 kb, 3.6 Mb
lyrics

Leigh Ann wrote this song about a trip she took through the American Southwest. She went down the Grand Canyon on muleback, and into Indian reservations in New Mexico. This song was the result.

9
The Blacksmith 128 kb, 3.1 Mb
lyrics

Our most-recorded song, this is the tale of a woman jilted by her blacksmith lover.

10
Vessel of Mercy 128 kb, 3.2 Mb
lyrics

Leigh Ann wrote this song for our "Rock'n'Roll Ritual", where it was the invoking song of Water.

11
Satisfy My Appetite 128 kb, 3.9 Mb
lyrics

Leigh Ann wrote this song to show me how she thought a "Celtic blues" might sound.

12
Welcome In the May 128 kb, 3.1 Mb
lyrics

Elton wrote this little ditty about May Day and the quaint customs regarding it. It was supposed to be English traditional, but (I'm not making this up) he was watching a show about Texas while he wrote it, so the music turned out sort of a two-step.

13
Byker Hill / Elsie Marley 128 kb, 3.8 Mb
lyrics

A song about coal miners, which happens to refer to another song — so we threw that one in too.

14
Captain Ward and the Rainbow / I Know You Rider 128 kb, 22.6 Mb
Ward lyrics Rider lyrics

An English song from the time of James I, the story of one John Ward, who in 1604 led a mutiny and turned pirate, and the ship James sent out to bring him in. Hilarity ensues. (Perhaps Ward was just getting an early start on the English civil war?) We follow this with a traditional American blues tune made popular by the Grateful Dead.

15
The Cutty Wren 128 kb, 3.7 Mb
lyrics

A Welsh wren-hunting song. We approached this more or less as a ghost story, perhaps out of reverence for the spirit of the poor departed wren. (Uh huh.) Leigh Ann learnt this off the singing of Holly Tannen, and taught it to us.

16
Summertime

One of George Gershwin's best known songs. This is Celtic only because we played it and we're a Celtic band. So there.

17
Mayhymn 128 kb, 4.5 Mb
lyrics

One of Leigh Ann's first songs written after she met Elton, this was her response to a challenge from him to produce a May song in three verses, containing no more than twelve lines. To get even, she made Elton help with the music. We think she did a splendid job: this is one of our favorites of her songs.