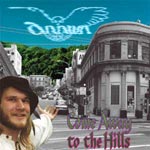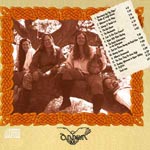 Come Away to the Hills
(1995)
Our second CD, this album was a watershed for us: by the time we made it, Annwn had become an actual band again, rather than just Leigh Ann and Elton plus whoever they could scare up. It was also Billie's introduction to the idea that yes, there is music that isn't already written down, and oh by the way yes you can sing. And, making matters even better, we encountered R Pickett and convinced him to join the band just in time to record one, count 'em, one whole track on this disc.
The band was:
Leigh Ann: fiddle, vox, percussion, pennywhistle
Elton: guitar, vox, bass, percussion, banjo
Billie Mandel: flute, vox
Greg Hines: guitar
...And, joining late, R Pickett on bass for the Morrison's Jig set. Which is why it came out so much better than Elton's usual bass playing: R is another of those outstanding bassists we've been privileged to work with.
You can download the recordings! Right-click on the track name, select "Save Target As..." (IE) or "Save Link As..." (Firefox).
1
Morrison's Jig 128 kb, 3.9 Mb
Three Irish jigs. Bass: R Pickett.
2
Welcome In the May 128 kb, 3.4 Mb
lyrics
Elton's take on English May Day festivals.
3
Johnny O'Braid's Lee 128 kb, 3.6 Mb
lyrics
An English song about a hunter who likes his venison poached versus gamekeepers who want to feed it to him raw. Leigh Ann wrote the ghost-story last verse.
4
The Red Queen 128 kb, 5.2 Mb
lyrics
Leigh Ann's pirate yarn about the female pirate Anne Bonney.
5
The Blacksmith 128 kb, 4.3 Mb
lyrics
This is our second recorded instance of an English song about a jilted lover. Elton once thought we should put a different version of this song on every Annwn album, but was, um, talked out of it.
6
Cam' Ye O'er Frae France? 128 kb, 3.0 Mb
lyrics

A song from the Jacobite uprising in Scotland, lampooning Charles II of England and his two ugly mistresses. ...Not, may we hasten to add, that James Stuart was any improvement.

Tabla: Aditya Gurajada.
7
Byker Hill / Elsie Marley 128 kb, 3.7 Mb
lyrics
An English song from the coal pits. Just for fun, we also threw in an aberrant version of the jig that Byker Hill refers to.
8
The Bard's Exhortation to the Salaryman 128 kb, 4.9 Mb
lyrics
Leigh Ann wrote this song to poke fun at Elton during a time when he had a day job and she didn't.
9
Tam Lin / Down Among the Dead Men 128 kb, 4.8 Mb
lyrics
Tam Lin is a modern Scottish reel that Leigh Ann learnt off a Japanese banjo player in an Irish pub in San Francisco. Down Among the Dead Men is an English drinking song. This is a brief foray into multiculturalism.
10
Matty Groves 128 kb, 6.5 Mb
lyrics
Important safety tip: don't, I repeat, do not find yourself naked in bed with the wife of a man who owns more than zero very sharp swords and loyal retainers, in the unexpected company of that same man. This has been a public service announcement from your Folk Song Safety Advisory Council.
11
Gilbert's Greatsword (Elegy for Gilbert de Langspee) 128 kb, 3.0 Mb
lyrics

I sometimes fear people will think I make this stuff up ... At an SCA tournament near Sacramento, there was a contest to write an elegy. The prize was a Norse drinking horn. Leigh Ann wanted it. So she wrote an elegy for the "death" of one of the players in a game of "Steal the Sheep" earlier that day, where teams compete to move a stuffed sheepskin across the field.

Tabla: Aditya Gurajada.
12
The Trees They Do Grow High 128 kb, 3.8 Mb
lyrics
This Scottish border ballad is the song of an arranged marriage: a very common occurrence, but the implication we hear behind this one is that it was done as a way of letting the daughter's father steal the young man's land. The plot comes off correctly, except for the part where the daughter falls in love with the young man.
13
Sunday Afternoon in Upper Wallop 128 kb, 4.0 Mb
lyrics
Elton wrote this as a solo guitar piece, then asked Leigh Ann to tell him what it reminded her of. She did. So he wrote a little ditty about the colourful denizens of "English culture".
14
Forfeits (reels) 128 kb, 7.7 Mb
This bonus track was not on the original album and is not strictly an Annwn tune. It's Leigh Ann with the Haas sisters, Natalie (cello) and Brittany (violin) sitting around playing after we got done recording The Crown for nuit in 2000.