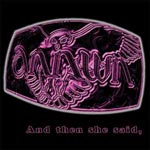 And Then She Said,
(2005 - compilation)
This is the "everything else" album. Some of our recordings never made it onto something we sold. Others, our Jethro Tull covers for instance, were done for a specific project that had an audience of three, maybe four worldwide. And others yet were "rescues" from albums that I just plain don't like, though I like these songs just fine. So, this compilation is the list of songs I'm still willing to let out in public, but which don't have any other home.
These songs are an eclectic mix, covering a span of more than ten years and representing nearly every lineup that we ever called Annwn. For that reason, each song in the list shows the band that did it. You'll find these names along with Leigh Ann and Elton: R Pickett, bass; Les James, drums and percussion; Mark Ungar, guitar, mandola, and vox; Billie Mandel, flute, percussion, and vox; Sean Morrisson, bass.
You can download the recordings! Right-click on the track name, select "Save Target As..." (IE) or "Save Link As..." (Firefox).
1
Whiskey Before Breakfast 128 kb, 3.9 Mb

An Irish reel, with a second tune thrown in that Leigh Ann pretty much made up on the spot.

R: bass; Les: drums.
2
Life Is a Long Song

Ian Anderson's song about life and the living thereof. One of three songs we produced for a Jethro Tull tribute project.

Billie: flute, vox; R: bass. Elton did the percussion.
3
Which Way Is Jerusalem From Here? 128 kb, 3.6 Mb
lyrics

Elton wrote this song, which wonders whether this world is really a creation to be proud of.

Mark: guitar, vox.
4
The White-Knuckled Passenger 128 kb, 2.9 Mb

Leigh Ann wrote this reel after a motorcycle ride along Highway 9 through the Santa Cruz mountains, describing her passenger's reaction to her riding style. The second tune is Irish: Lads of Laois.

R: bass; Les: drums.
5
The Star of the County Down 128 kb, 3.9 Mb
lyrics

An Irish traditional love song.

Mark: lead guitar.
6
Make It So 128 kb, 4.0 Mb
lyrics
Mark Ungar wrote this song. No, really, it's not slash fiction about the decade's favorite science fiction show. Honest. Mark: vox, mandola.
7
The Witch's Promise

Another Ian Anderson song that we recorded for the Tull tribute. Oh, how I wish I could take this one back and re-record the percussion parts!

R: bass; Billie: flute. Elton, Leigh Ann, Billie: percussion.
8
The Green Fairy 128 kb, 4.0 Mb

Leigh Ann wrote this song about the violence in Northern Ireland, comparing it to an addictive drug. We recorded this song after Annwn had broken up, using the bassist from our new project.

Mr. Schtinke: bass.
9
Mother Goose

Yet another Ian Anderson song recorded for the Tull tribute. This is our fractured take on Ian's recounting of some of the colourful characters that hung around where he used to live.

R: bass; Billie: flute, vox.
10
The Blackbird of Avondale 128 kb, 5.0 Mb

An Irish song about Charles Stewart Parnell, a fervent supporter of Irish home rule who happened coincidentally to be descended from English stock.

R: bass; Les: drums.
11
Guardian Angel 128 kb, 4.1 Mb
lyrics
This is not really Annwn, but its predecessor, Daoine Sidhe Sean: bass.
12
Seahaven 128 kb, 4.9 Mb
lyrics

Leigh Ann more or less tossed this song off for a friend of hers in the SCA. She doesn't believe Elton when he tries to tell her how profound it really is.

Mark: lead guitar.
13
Istanbul 128 kb, 4.0 Mb

Roger Tallroth, a Norwegian fiddler, wrote this tune during one of his band's tours. We produced this version of it for a demo we did just before Annwn broke up.

Billie: zils; R: bass; Les: drums, percussion.